Ah, the age-old dilemma: Do you go for that expensive top-of-the-line bike, or make the most of a modest budget and go for the affordable mountain bike? If you're a practical-minded rider or new to mtb riding, the Trek 820 is positioned as the best, most affordable mountain bike on the market.

Most modern mountain bikes make it easy to get buried in lengthy, spec-nerdy reviews and details. We'll give you a comprehensive look at the Trek 820 from a beginner's point of view.
We'll take you through all of the features, a brief background of the manufacturer, customer reviews, and our verdict. By the end of this Trek 820 review, you should have the information you need to make an informed decision. Let's get to it!
The History of Trek
Trek bikes have a rich history that spans several decades. The company was founded in 1976 by Richard Burke and Bevil Hogg with a vision to produce high-quality bicycles. Initially, they focused on road bikes but soon expanded into other categories like mountain bikes and hybrids.
Trek's commitment to innovation led to notable advancements, including the introduction of the first carbon fiber production bike in 1989. Over the years, Trek has collaborated with professional cyclists and teams, achieving numerous victories in prestigious races.
Today, Trek remains a leading bicycle manufacturer and is known for its cutting-edge technology, extensive range of models, and dedication to providing cyclists with exceptional riding experiences.
Overview of the Trek 820
The Trek 820 is a great bike for those on a budget. Bike enthusiasts agree that it provides excellent value for its price point and is perfect for those who want a beginner-level mountain bike designed to conquer trails easily.
It features basic components that provide smooth and precise shifting and a sturdy frame build so you can enjoy a comfortable ride. The bike also has an adjustable handlebar height so riders of different sizes can find the most comfortable riding position.
Some argue that the Trek 820 is too basic and misses out on features like hydraulic brakes, but others appreciate its simplicity and durability. There's no denying that this bike offers plenty of advantages.
Given its accessibility, it's clear that this versatile bike was designed for both beginner riders and those looking to improve their skills on the trail without breaking the bank.
Design and Quality
The Trek 820 has garnered attention for its attractive design and relatively robust construction for a bike in its budget range. Constructed from quality materials, the steel frame is durable and designed to provide good levels of comfort and rigidity while also looking slick.
The tires are thick enough to handle slight terrain changes without issue, and the suspension fork helps provide even more flexibility and control when mountain biking on rougher trails. However, the stock brakes on this bike are slightly disappointing, with a lower-quality material that feels inadequate compared to more expensive bikes. This can be fixed with an upgrade, but it is still a factor worth considering.
Overall the style of the Trek 820 fits right into modern bike trends; pleasing looks combined with an array of standard features make it a compelling purchase option. Its cutaway frame design makes it stand out amongst other budget models, though some may find its bulky design too utilitarian.
Drivetrain and Gears
When it comes to performance, the Trek 820 is considered one of the best in the budget mtb category. The bike's drivetrain system consists of Shimano Tourney shifters and derailleurs for smooth transitions between gears. Additionally, the alloy crankset provides reliable power when entering a variety of changes in terrain.
The Shimano Tourney 21-speed drivetrain offers plenty of options to help personalize your journey. Whether you are looking for an easy run up hills or a challenge on more rugged terrain, the range of gears will help you easily get there.
The Shimano Tourney twist shifters provide quick and accurate gear changes, so you can dial your speed in seconds.
One downside of the drivetrain is that it has no higher-level components, such as Shimano XT or any other type of premium componentry. Still, many find that the combination of components available on the 820 work great for recreational use and don't need those features anyway.
Some owners have reported that parts of the drivetrain can be slightly noisy or slow to respond, but this is expected from lower-budget models. It doesn't detract much from the overall performance of the bike.

Overall, the 820 offers solid performance for an entry-level mountain bike. While there are some limitations compared to more expensive top-end mountain bikes, they don't hinder its usability, making it a solid choice for casual bikers or commuters who need a versatile ride on a budget.
Suspension Fork
The Trek 820 features a sturdy spring coil suspension fork that helps absorb shocks from the road and trails while providing extra control when turning and maneuvering. While this isn't the highest-end suspension fork available, it is still more than enough for the casual rider looking for a smooth ride outside on their bike – the budget-friendly price tag sweetens the deal.
Wheels and Brakes
The 820 features high-rolling 700c durable alloy wheels with 32H Double Wall rims, providing ample support for the rider and allowing for a relatively effortless smooth ride.
The wheels are made using industry-standard techniques, providing stability while riding on various surfaces. The tires are meaty for a hybrid-style bike. But the tires have knurled treads for grip and safety when taking corners or navigating tough terrain.
The 820 features Tektro mechanical brakes that give you precise speed control, thanks to their linear-pull design for additional stopping power as needed.
Frame Sizes and Weight Limits
The Men's Trek 820 is available in 6 sizes ranging from XS to 2XL and has a maximum weight limit of 300 pounds.
| | | |
| --- | --- | --- |
| SIZE | RIDER HEIGHT | INSEAM |
| XS | 4'9″ – 5'1″ | 27″ – 29″ |
| S | 5'1″ – 5'5″ | 29″ – 31″ |
| M | 5'8″ – 5'11" | 32″ – 34″ |
| M/L | 5'10" – 6'2″ | 33″ – 35″ |
| XL | 6'2″ – 6'5″ | 35″ – 36″ |
| 2XL | 6'5″ – 6'8″ | 36″ – 38″ |
The Trek 820 Women's Mountain Bike offers a confidence-inspiring stepthrough frame and an exclusively designed saddle tailored to provide optimal comfort and support for women riders. It comes in XS, S, and L sizes and also has a max weight capacity of 300 pounds/
The only major downside to the 820 would be its weight. At over 34 lbs., this particular bike is not quite as versatile or nimble as others on the market that come in at lighter weights. The steel frame and thick tires are contributing factors here.
For those needing something lightweight that they can quickly maneuver through trails or even streets, there are better options out there that might fit their needs more efficiently.
Price and Value of the 820
Price is often the determining factor when selecting a bike, and the Trek 820 is no exception. At around $400 to $550, depending on the size and components, this bike fits squarely in the realm of an affordable yet reliable option.
While not the cheapest model out there, cyclists will get significantly more for their money than with other bikes in the same price range. That said, consumers won't have to sacrifice too much when it comes to features found on mid-range or more expensive models either.
Although there are certain instances where buyers may benefit from spending more on a bike, the Trek 820 offers a great value for its price tag.
Trek 820 Customer Reviews
The Trek 820 mountain bike received an average rating of 4.5 out of 5 stars across 280 customer reviews on Amazon.
According to a survey by Bike Advice, almost 90% of customers who purchased a Trek 820 mountain bike reported being satisfied with their purchase.
A 2020 review by Gearjunkie found that the Trek 820 was praised for its lightweight and affordability, making it a great choice for entry-level mountain bikers.
The reviews confirm that the bike tops other entry bikes. Customers also rave about the value of the Trek 820 for beginners.
Most complaints, though minimal, revolve around the weight of the steel frame. Customers explain that the heavyweight makes the bike unsuitable for climbing and higher-level trails.
One YouTube reviewer claimed that the Trek 820 provides a smooth ride on novice tracks and has smooth brake mechanisms.
Get the best beginner mountain bike for your budget. Visit Trek.com to compare models and prices. Free shipping on orders of $49 or more.
Who Should Ride the 820?
The Trek 820 is a great bike for riders on a budget, as it features reliable components and good handling capabilities. However, it's important to consider who should be riding the Trek 820, and how they can best leverage its features.

For those who are just starting out, there's plenty of reasons to consider the Trek 820. Its cheap and sturdy frame can provide comfort and reliability on longer rides, but is versitile enough to be your regular around-town bike.
Since the bike is lower cost than starter models from other manufacturers, it also allows beginners to gain familiarity with cycling without investing too much into the hobby.
Competitive Models
When shopping for a budget bike, it is important to compare different models to determine the best option. The Trek 820 is one of the top contenders for low-cost mountain bikes, but how does it stack up against other models?
The two mountain bikes most closely compared to the 820 are the Trek Marlin 5 (2020) and the Giant ATX.
The 820 vs. Trek Marlin 5
The Trek 820 and the Trek Marlin 5 are mountain bikes manufactured by Trek, but they have some differences in features and performance. Let's compare them in various aspects.
Frame and Construction:
The Trek Marlin 5 has a lightweight aluminum frame that offers better efficiency than a sturdy steel frame in weight-limit power transfer. It has a more modern frame design with internal cable routing.
Suspension:
The Trek Marlin 5 also features a front suspension fork, offering a longer travel range (usually around 100mm). This provides better suspension performance and improved control over rougher trails.
Drivetrain and Gearing:
The Trek Marlin 5 has a more advanced drivetrain system, often a 2×9 or 3×9 gear setup. This provides a wider range of gears and more precise shifting, allowing for better performance on challenging terrains.
Wheel Size:
The Marlin 5 usually comes with 27.5-inch or 29-inch wheels. These larger wheel sizes provide better rolling efficiency and improved stability off-road riding and mountain biking, especially when riding over obstacles.
Brakes:
The Marlin typically comes with hydraulic disc brakes. Hydraulic disc brakes generally provide better modulation and stronger stopping power, particularly in wet or muddy conditions.
Price:
At an MSRP of $599, the Trek Marlin 5 is positioned as a mid-range mountain bike and is priced slightly higher than the Trek 820, reflecting its upgraded components and features.
The 820 vs. Giant ATX
Giant places a strong emphasis on producing high-quality mountain bikes. They utilize advanced manufacturing techniques and materials to create robust frames and components. Giant's dedication to quality is evident in one of their entry-level mountain bike models, the ATX.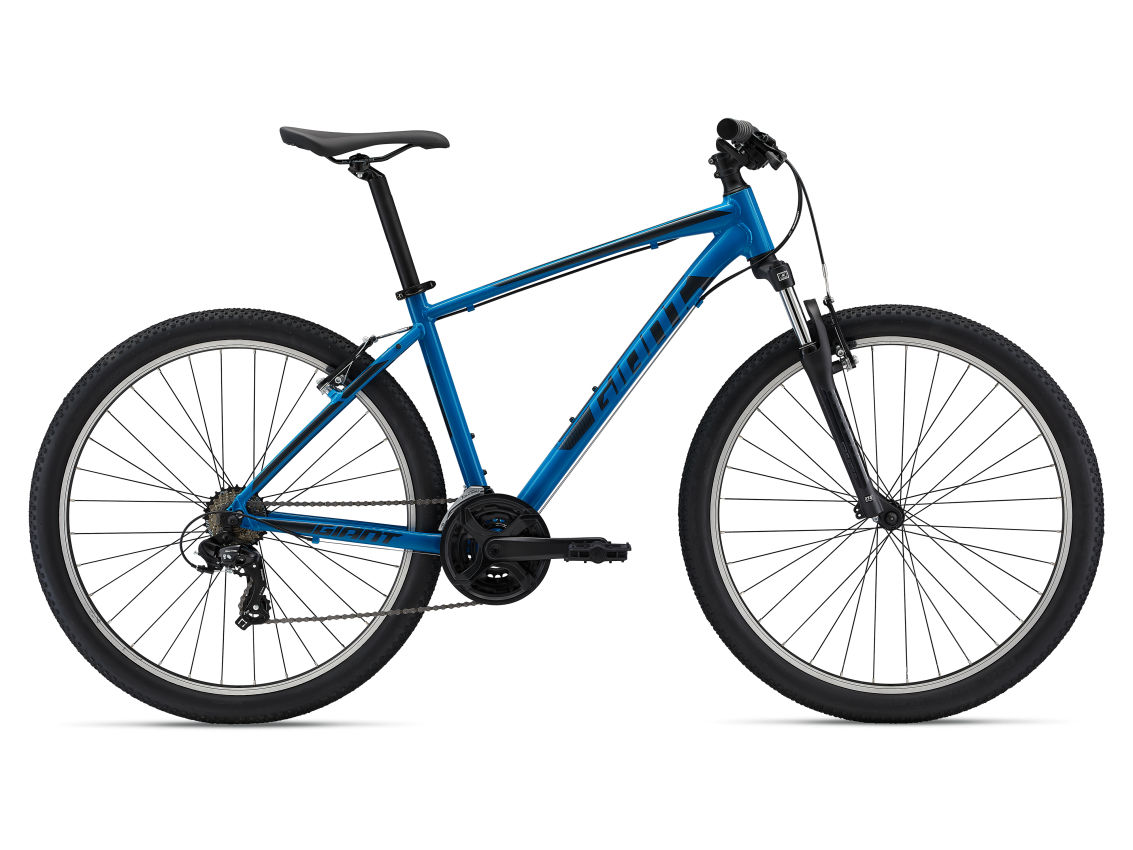 Frame and Construction:
The Giant ATX typically features an aluminum frame, which offers a balance between lightweight construction and strength. It may have a modern frame design with internal cable routing.
Suspension:
The ATX also features a front suspension fork with a similar travel range. It provides improved suspension performance and enhanced control over rougher trails.
Drivetrain and Gearing:
The Giant ATX features a similar drivetrain setup as the 820, such as a 3×7 or 3×8 gear system, providing a wide range of gears for various terrains.
Wheel Size:
The Giant ATX typically comes with 27.5-inch or 29-inch wheels. These larger wheel sizes provide better rolling efficiency and improved stability, especially when riding over obstacles.
Brakes:
The ATX features mechanical disc brakes or hydraulic, depending on the model. Hydraulic brakes generally provide better modulation and stronger stopping power, particularly in wet or muddy conditions.
Price:
The Giant ATX is positioned as an entry-level or mid-range mountain bike, and retails for around $475.
Our Final Verdict
The Trek 820 is a great starter mountain bike for those just getting into riding mountain bike trails. It offers good value for money and provides decent performance, making it a popular choice for many riders.
Put simply, the Trek 820 is a great bike! Whether or not it's right for you will depend on your individual needs as a cyclist, but it's definitely worth considering if you're looking for an affordable bike that can handle both long rides and shorter treks with ease.
Related Content